Coronavirus/COVID-19 Resources and Updates
Sign up to receive email, text, and or telephone updates from Notify LA
What we know:
COVID-19 symptoms include fever, cough, and shortness of breath — and may appear in as few as 2 days or as long as 14 days after exposure.
Person-to-person spread mainly occurs via respiratory droplets produced when an infected person coughs or sneezes (similar to how influenza and other respiratory pathogens spread).
People are thought to be most contagious when they are most ill. People who are not symptomatic can also be contagious.
Currently, the Centers for Disease Control and Prevention (CDC) and the Los Angeles County Department of Public Health (DPH) do not recommend the use of personal face masks by individuals who have not had prolonged exposure to individuals who have been identified as at-risk.
For more information please use verified sources such as:
CDC
Los Angeles County Public Health
CA State: COVID-19
City of Los Angeles: COVID-19 
Special thank you to all the agencies working together to get all this information! LA County Department of Health and LA City!
LA Community Resources Guide – COVID-19 
This is an incredibly tough time for everyone and we want to make sure community resources are as easy to find as possible. This living document is a compilation of financial, health, food, educational, housing, and other resources provided by various organizations throughout Los Angeles. We are sharing resources for information only and are not trying to promote any organization in particular.

Please feel free to share this with your family and friends. Hope you all stay safe and healthy.

This document was compiled by Jessica Caloza and Shekinah Deocares from LA City Board of Public Works with support from Scott Chan of LA County Department of Public Health, and Sarah Lee of Pepperdine University.

Table of Contents: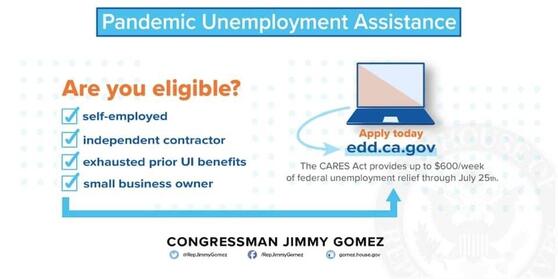 PANDEMIC UNEMPLOYMENT ASSISTANCE FOR BUSINESS OWNERS:
As part of the federal CARES Act, the new Pandemic Unemployment Assistance (PUA) program helps unemployed Californians who are business owners, self-employed, independent contractors, have limited work history, and others not usually eligible for regular state UI benefits who are out of business or services are significantly reduced as a direct result of the pandemic.  READ MORE